Board of Directors
Contents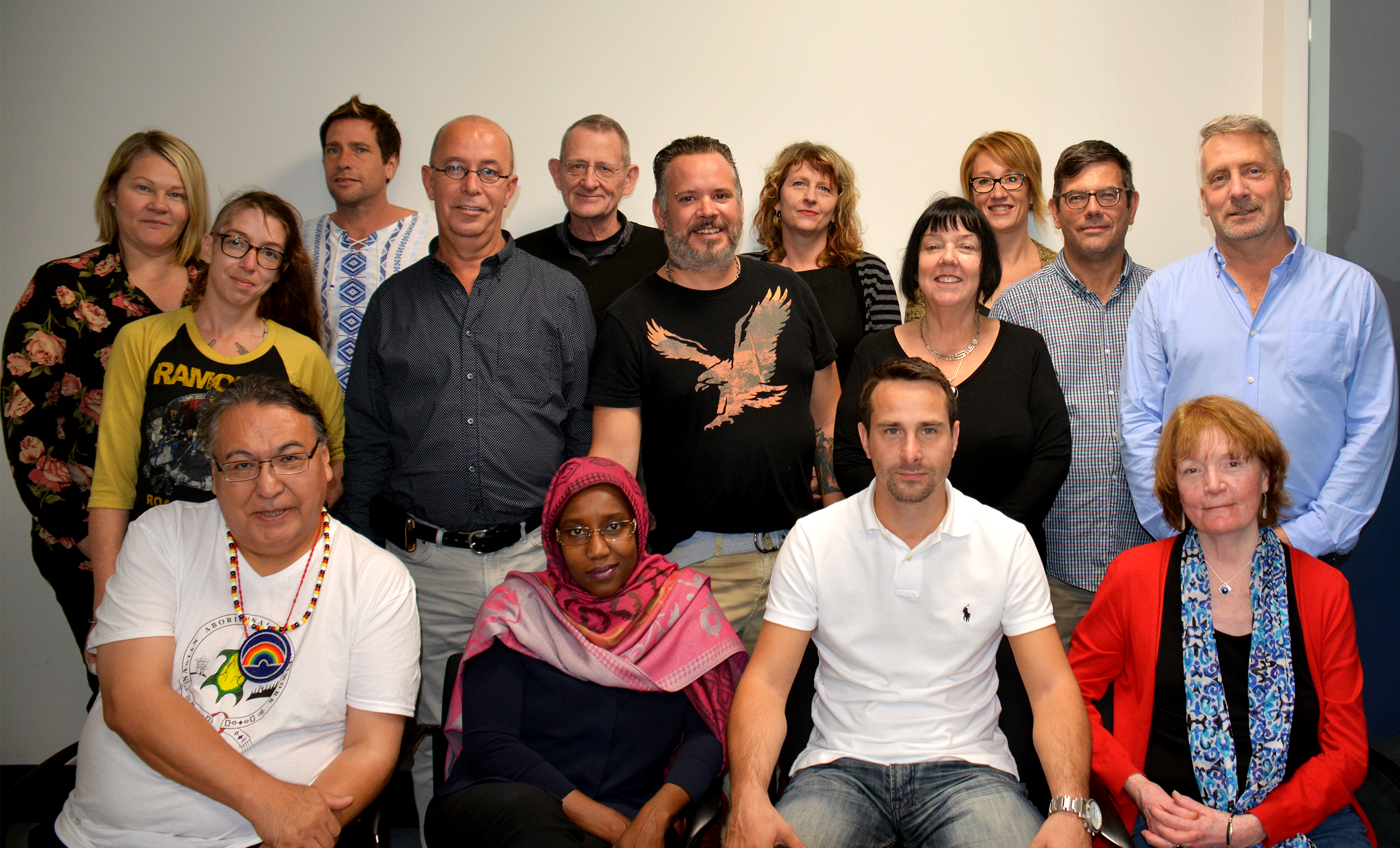 CATIE Board, 2016-2017
Back row (from left): Denise Thomas, Alexandra de Kiewit, Trevor Stratton, Gerard Yetman, John McCullagh, Arthur "Dave" Miller, Hermione Jefferis, Dr. Lynne Leonard, Susanne Nasewich, Patrick Cupido, Darren Lauscher. Front row: Peetanacoot Nenakawekapo, Haoua Inoua, Hugo Bissonnet, Marcie Summers.
At CATIE's Annual Meeting, held October 14, 2016 in Toronto, we elected our Board of Directors for 2016/2017. New to the team is Alexandra de Kiewit, CATIE's Director for Quebec, replacing Terry Pigeon who is retiring from that position. Alexandra has been involved in community work since 2010. After working for five years at Association Québécoise pour la promotion de la santé des personnes utilisatrices de drogues (AQPSUD), she now works as a Liaison Officer for Stella. All other members of the Board (see list below) remain to fulfill their terms in office. CATIE heartily thanks Terry Pigeon for his service through the years.
About the CATIE Board
CATIE has a 15-member Board of Directors. Half of the positions are reserved for people living with HIV/AIDS and at least one member must have experience living with hepatitis C. Four positions are reserved for At-Large Directors, one position is reserved for an Aboriginal At-Large Director, and two positions are reserved for a member from each of the following five territorial groupings:
Atlantic Region (Nova Scotia, New Brunswick, Prince Edward Island, and Newfoundland and Labrador);
Quebec;
Ontario and Nunavut;
Prairies (Manitoba, Saskatchewan, and Alberta) and Northwest Territories; and
British Columbia and Yukon.
Five of the 15 board members hold the positions of Chair; Vice-Chair; Treasurer; Secretary; and Chair, Strategic Planning and Policy Committee.
CATIE Board
The current CATIE board members are listed below:
| | |
| --- | --- |
| Category | Name |
| At-Large Board Member | |
| At-Large Board Member | |
| At-Large Board Member | John McCullagh (Chair) |
| At-Large Board Member | |
| Aboriginal At-Large Board Member | |
| Board Member, Atlantic Region | |
| Board Member, Atlantic Region | Gerard Yetman (Secretary) |
| Board Member, Ontario and Nunavut Region | |
| Board Member, Ontario and Nunavut Region | Patrick Cupido (Treasurer) |
| Board Member, Pacific Region | |
| Board Member, Pacific Region | Marcie Summers (Vice-Chair) |
| Board Member, Quebec Region | |
| Board Member, Quebec Region | |
| Board Member, Western Region | |
| Board Member, Western Region | |
Honorary Members
In recognition of their outstanding contribution to the organization, the Board has awarded lifetime honorary memberships to:
| | |
| --- | --- |
| Terry Pigeon | Past Chair |
| Patrick Cupido | Past Chair |
| Linda Gardner | Past Co-Chair |
| Robert Gardner | Past Co-Chair |
| William Naumovich | Past Co-Chair |
| Brian Robinson | Past Secretary |
October 2016