Hep C Bingo
AIDS Vancouver Island
Vancouver Island, B.C.
2017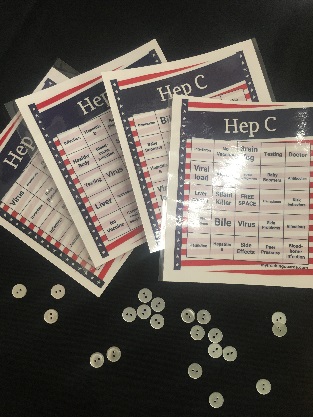 In honour of National Aboriginal Hepatitis C Awareness Month, which takes place in May, AIDS Vancouver Island (AVI) and Kwakiutl District Council (KDC) Health organized a game of Hep C Bingo for Indigenous Elders in Courtenay, a small coastal city on northern Vancouver Island, B.C.
Hep C Bingo is similar to traditional bingo, except that instead of playing it with numbers, players use cards containing hepatitis C-related words. For this particular game, Jeanette Reinhardt, the health promotion educator for AVI and Ken Bell, the community wellness worker for KDC Health called out the words and explained what they meant, for example: "Virus. A virus is a microscopic type of germ that needs a living cell to reproduce." Players who complete a row of words win prizes, like gift cards and swag bags. A meal was also provided at the Courtenay event.
"When doing education work out in the community, it is often the games that people remember, and look forward to playing again," explained Jeanette. She attributes the origins of Hep C Bingo to multiple sources. Wei Wai Kum First Nation on Quadra Island has been playing HIV Bingo since 2013 while AVI in Victoria plays a harm reduction version at their drop-in centre. Nowadays, there are several different HIV and Hep C Bingos adapted for various communities across Vancouver Island.
"Bingo is a fun and non-threatening way to learn about stigmatizing diseases such as HIV and Hep C. As an educator, it allows me to simply explain complex health issues, bust misconceptions around transmission and provide information on treatment," said Jeanette.
The event in Courtenay was a success and overall a culturally safe way for people to access information and bring it back into their community.
To learn more about Hep C Bingo, contact AIDS Vancouver Island in Courtenay at 250-338-7400 or e-mail Jeanette.Reinhardt@avi.org.