Summer 2012
Profile: All Due Respect
Lawyer and AIDS activist Jeff Keller takes on stigma and discrimination in his mission to ensure that people are treated with the respect they deserve.
By Astrid Van Den Broek
Jeffrey T. Keller doesn't consider himself an activist. "I don't think of myself as one," says the Edmonton-based family law lawyer, "because I have a full-time job too." Full-time job or not, it's hard not to see an activist's desire to disturb the status quo in this man who has written an essay titled "On Becoming a Fag" and has "HIV+" tattooed on his forearm.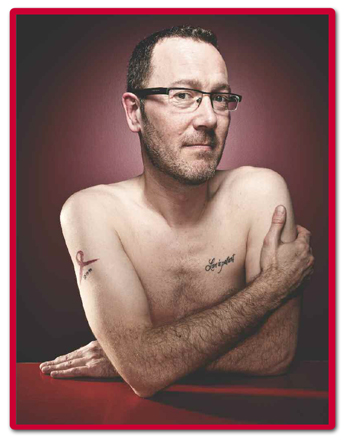 Instead, Keller says, "I'm just helping on the side." To be fair, his work from the sidelines is considerable: He writes, he teaches and he has made valuable contributions to the AIDS movement. The passionate and eloquent presentations he has given at public forums, conferences and AIDS vigils have run the gamut from sex education and HIV prevention to mental health to HIV and criminal law. Until recently, he was vice-chair of the Canadian AIDS Society (CAS) board and, before that, the chair of HIV Edmonton.
Keller is the kind of lawyer—and man—who fights against injustice at every turn. He advocates for the ­mistreated and defends the vulnerable. If his work doesn't tell you that, then the "Respect everyone" tattoo on his inner right forearm will.
You could say that respect is the thread that runs throughout his life's work—his studies, his advocacy work and his career as a lawyer. Growing up in Smalltown, Sas­kat­che­wan, Keller experienced firsthand how it feels to be disrespected and bullied. Now, he advocates for the rights and dignity of his clients and all people with HIV. In his personal interactions, he makes sure to actively listen and make a person feel like "a respected human being rather than a nameless person."
IN 1994, KELLER WROTE "On Becoming a Fag," an essay that was published in the Saskatchewan Law Review. In it, he weaves together a moving account of his personal development as a gay man and his relationship to the "fag" label with a history of how religion, medicine and the law have persecuted gays and lesbians over the centuries. The article caused an uproar in the province's legal community, prompting numerous letters to the editor and letters from lawyers who threatened to cancel their subscriptions.
Later that same year, Keller learned he had HIV. He was in the middle of studying for Christmas exams when he received the news at the University of Saskatchewan medical clinic. His doctor told him that he might have five years left before he got AIDS and would probably die within two years after that. Keller quickly sunk into a depression, barely making it through classes in the daytime and zoning out in front of the TV at night. But he trudged on, pushing himself to go to classes every day, determined to finish law school along with the rest of his class. "I took on the attitude that this stupid little virus was not going to control my life."
Right away, Keller was prescribed AZT, the only drug available at the time. A few years later, when effective antiretroviral therapy (ART) became available, he switched to a combination of the newer meds. Because he loathed the side effects and it was virtually impossible for him to deal with the gastrointestinal side effects while performing his demanding job for the Chief Justice of Alberta (where he worked after graduate school), he stopped the meds. With his doctor tracking his CD4 counts every four months, he managed to stay off ART until his counts started dropping eight years later.
Despite the side effects of those early drugs, when ART was introduced, Keller says he saw that "there was light, that things were going to get better and that we weren't going to die."
Right from the outset, the then 26-year-old was quite public about his HIV status. "It wasn't a secret," he says. "I was already known as the loudmouth gay guy in law school—I'd been talking about being gay and gay rights—and I figured AIDS was just one more thing to talk about." Keller was the first openly gay male law student at the University of Saskatchewan. ("There had been a lesbian the year before," he says. "Thank god for her!")
Back then, fear and ignorance about HIV and AIDS ran more rampant but, for the most part, those around him were supportive. One professor taught a class in con­stitutional law and promoted quarantining gay men, but Keller ­simply avoided him. Similarly, there were different cliques of students, which allowed him to avoid one clique and opt for another.
KELLER'S EDUCATING of others has taken many forms. At times, it involves talking directly to people. Like the time a fellow student pulled Keller aside, worried because he had just shaken Keller's wet hand. Keller had to tell the student that he had simply spilled some water, that a person can't become infected with HIV that way and that he could relax. Oftentimes, his ­awareness-raising has taken the form of public speaking. Other times it comes via the tattoos he sports on his body, such as the "HIV+" tattoo.
Inspired by an article in the U.S.-based POZ magazine about a guy who had "HIV+" tattooed on his arm, Keller decided to follow suit. The tattoo was, in part, a political statement—a reaction to conservative writer and political commentator William F. Buckley Jr.'s infamous 1986 op-ed piece in The New York Times in which he suggested that those who are HIV positive be tattooed as such. It was also a personal statement that he had control over his own body: "It was about claiming my body when it can sometimes feel like this virus and all the do's and don'ts ('take these meds at this time,' 'don't share razor blades'…) are controlling your life."
His other tattoos (including a red ribbon with the date of his diagnosis on his right shoulder, and the words "Love is patient" over his heart) serve as a mental touchstone for him. "In a novel I read, the main character said that scars and wounds should be con­sidered beautiful because they're reminders of a battle survived," Keller says. "These tattoos are like my scars of emotional battles survived and lessons learned, since most emotional battles don't leave visible scars."
WHAT HAS ALWAYS DRIVEN, and continues to drive, Keller is his wish for others to avoid what he went through and his determination that all people be treated with the dignity and respect they deserve. He believes that if we were all treated like we mattered, then we would do away with stigma and discrimination. As a result, we would start treating our own bodies and ourselves with more respect and we would be able to take steps to prevent in­fection. For Keller, this is key to ­preventing HIV/AIDS.
In his law practice, too, he advocates for the mistreated. He loves representing children whose parents are fighting for their custody. He sees himself as playing a role in their lives, treating them with dignity and helping to build their self-esteem.
Since stepping down from the CAS board after four years (he felt the need to slow down), Keller continues to work as staff counsel with Legal Aid Alberta, but sees this as a time to re-evaluate his life. Keller also ended a painful year-long relationship last year, and a nine-and-a-half-year relationship before that; as he puts it, it's time to pull over to the side of the road to re-examine the map of where he's going. And with his health in the condition it's in—he's been undetectable for more than two years now—the future looks bright.
If Keller's tattoos are a map of his journey with HIV, what's the next route to be laid down? "It's so un-original," he laughs, "but it has meaning in my life: Carpe diem, on my left bicep. It's a reminder of things to do: Seize the day, keep going."
Photograph by Curtis Trent