Summer 2014
Visual AIDS
Living with HIV for over 25 years, I've met a lot of pills. In fact, I've consumed 2,000 bottles of them! Mostly antiretrovirals but other meds and supplements too.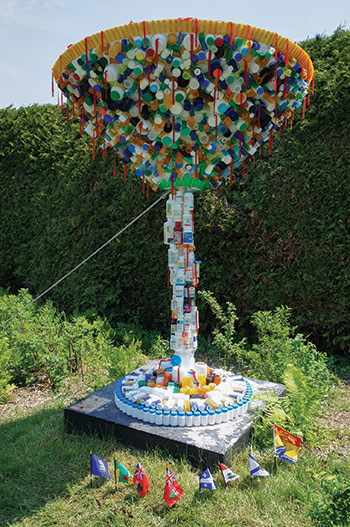 With the help of friends and family, I constructed this seven-foot cocktail glass using more than 2,000 empty bottles.
When people ask me what the sculpture represents, I might say any one of the following (depending on the day and my mood):
"It's about the pill burden of living with HIV."
"I wanted to point out how the medical profession names things inappropriately. Calling the pills I have to take each day a 'cocktail' always struck me as strange."
"Look, trash is beautiful!"
"We are destroying the environment when we throw these plastics in the landfill."
"The gorgeous, beaded red ribbons made the sculpture! Ironically, they come from Africa, where there is little access to medication and the world's largest percentage of HIV-positive people."
"This sculpture represents the difference between life and death. Wanna drink to it?"
Last summer my friend Cathy and I drove the sculpture from my studio in Victoria, BC, to the beautiful Kingsbrae Garden (pictured here) in St. Andrews, New Brunswick, where it was a finalist in a national sculpture competition. In my blue pickup truck, Babe, we covered 8,792 km in 29 days, making 20 stops along the way.
From west to east coast, we engaged people in conversation and invited them to put messages in the bottles. The messages that peers living with HIV and the community that supports us popped into the bottles were both uplifting and inspiring. Here's a toast to getting HIV out into the art world!
—Peggy Frank
To see "What's Peggy Up To?" check out her blog.
To read a profile of Peggy Frank, check out "Hope and Dignity" (in the Summer 2011 issue of The Positive Side).
If you have a photo that you think could be the next Visual AIDS, send it to us along with a brief description of the story behind the image: contribute@positiveside.ca