Summer 2014
In Your Face: AIDS posters confront stigma
By Darien Taylor

In the late 1980s, AIDS activist groups, like AIDS ACTION NOW! here in Canada and ACT-UP (the AIDS Coalition to Unleash Power) in the United States, mounted power­ful protests against institutional responses to the AIDS crisis. They confronted political indifference and demanded that governments and pharmaceutical companies take action against an epidemic that was killing people. Activists took their provocative messages to the streets with bold graphic posters, creating images that are indelibly linked to our understanding of AIDS and our memories of the urban landscape of that time.
While the heyday of confrontational demonstrations and direct action campaigns—and their associated in-your-face graphics and AIDS posters—may be largely over, campaigns continue to educate people about HIV and work to eliminate stigma and prejudice. For example, AIDS ACTION NOW!'s recent and acclaimed Postervirus project challenges the judgment, marginalization and criminalization of people with HIV and urges people to "Look After Each Other."
Early political postering
AIDS first made headlines in 1981. In North America, the '80s was a decade ruled by a right-wing agenda. U.S. president Ronald Reagan was silent about AIDS, AIDS research went unfunded, and AIDS was seen by many as "God's punishment against gays." AIDS education campaigns that were deemed to "encourage or promote homosexual activity" were prohibited.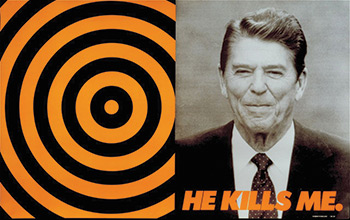 ACT-UP responded, creating chapters throughout the United States. ACT-UP New York, at the centre of the epidemic, became a master of media manipulation. Its propaganda arm, Gran Fury, a collective of artist-activists, sought to retaliate against the institutions and individuals responsible for making people with HIV invisible and the AIDS catastrophe negligible. In a 1987 poster by Gran Fury member Donald Moffett, the words "He Kills Me" appear over a photo of an amused-looking Ronald Reagan. 1987 was the year that Reagan, after years of silence, publically uttered the word AIDS for the first time. By then, nearly 60,000 Americans had already been diagnosed with AIDS and half had died of the disease.
Two years later, the poster "Kissing Doesn't Kill: Greed and Indifference Do" was, in the words of member Tom Kalin, Gran Fury's first "high-stakes opportunity." It consisted of a video campaign and mass mailing of postcards, along with large posters on the sides of city buses in New York City, Chicago, Washington, DC and San Francisco. Exploiting the look of popular Benetton ads of the time, the campaign featured three couples of various races and sexual identities, playfully kissing. The flipside of the postcard read: "Corporate Greed, Government Inaction and Public Indifference Make AIDS a Political Crisis."
Like many early AIDS groups, ACT-UP did not let a lack of resources stop them from shining a light on the inadequate response to this public health catastrophe. Gran Fury strategically combined the approaches of the media and advertising worlds, aimed at reaching a broad audience, with their own targeted political messages. Papering New York City with their sexy, angry, provocative posters, they used images and guerrilla dissemination tactics that other activist groups like Canada's AIDS ACTION NOW! would later adopt. Member Loring McAlpin reflected in a 2003 interview that Gran Fury's goal was to "drive a wedge into public discourse and open a space where AIDS could be talked about in all its dimensions." They succeeded.
An AIDS poster for everyone
Using a palette of bold colours and simple, almost child-like images of urban street life, artist Keith Haring also put his prodigious talents to work, creating the graffiti-influenced poster "Ignorance = Fear, Silence = Death." This poster borrows and bends the traditional Japanese imagery of the wise monkeys who hear, see and speak no evil. (AIDS ACTION NOW! would later use this imagery in a 1996 poster campaign calling for a national AIDS strategy from then–Prime Minister Jean Chrétien.)
Whereas Gran Fury's messages were angry and political, Haring's style was so joyful and celebratory that it seemed at odds with the message. While Gran Fury's message and tactics appealed to the activist, Haring's spoke to the masses. Referencing break-dancing, comic books and hip hop culture, Haring's famous poster is accessible and easily reproduced. In fact, Haring encouraged the reproduction and dissemination of his work, first through promotional giveaways and then by creating the Pop Shop, in New York's Soho neighbourhood, where T-shirts, buttons, posters and other items were sold.
Haring's work has been criticized for its mass appeal. Nonetheless, it brought issues of drug use, AIDS and sexuality into popular consciousness during a politically repressive time. Diagnosed with AIDS in 1988, Haring died in 1990.
Turning point
When protease inhibitors appeared in the mid-90s, the treatment and lives of people living with HIV were transformed, and the visibility of the AIDS crisis faded. For many of those left standing, adrenaline dissipated in burnout and exhaustion. The often politically charged activist campaigns of the '80s and early '90s largely gave way to tools of AIDS awareness and promoting access to social services.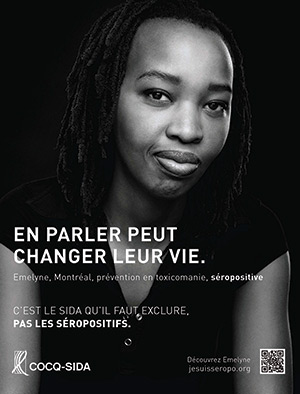 But the AIDS crisis has not been resolved. And AIDS posters continue to be used as tools for education and anti-stigma work. Today, in industrialized countries, AIDS posters often act as tangible, real-world conductors to the virtual world of online technologies.
A savvy anti-stigma campaign by COCQ-SIDA, a Quebec coalition of community organizations, illustrates this point. Based on a highly successful campaign by the French organization AIDES, the 2013 campaign features Quebecers who live proudly with HIV, such as Emelyne, an articulate and composed young African woman who works in a Montreal drug prevention program and attends school at night. These vibrant individuals talk about their lives, their dreams and the ways in which they contribute to their communities. Each concludes: "C'est le sida qu'il faut exclure, pas les séropositifs" ("It's HIV that needs to be excluded, not the people living with it").
With their messages of inclusion and respect for people living with HIV, the posters also act as a portal into an innovative online anti-stigma campaign—people can watch videos or download an app to create a personalized poster and message, then share it on Facebook and Twitter, or join an online discussion at www.jesuisseropo.org.
The struggle continues
Stigma and discrimination continue to take not only a psychological toll on those who live with HIV, but in many countries where HIV is endemic, they are the main barriers to physical health and well-being. Antiretroviral treatment is now available to many people in most African countries, for example, but the stigma of testing for HIV and acknowledging one's status as HIV positive prevents people from accessing medications that could save their lives and the lives of their children.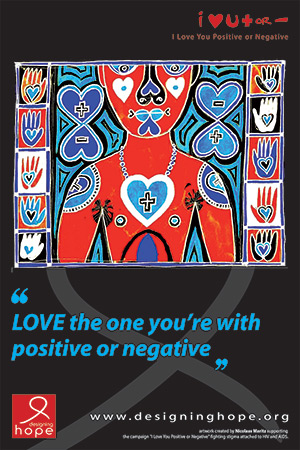 Since 2005, the French NGO Dessine l'Espoir (Designing Hope) has led a number of creative initiatives through the UNESCO-sponsored "I Love You, Positive or Negative" campaign, aimed at reducing HIV stigma. Like Quebec's COCQ-SIDA, Designing Hope ties its graphic images by contemporary artists to anti-stigma testimonials from local personalities and to opportunities to initiate dialogue with affected communities. They work predominantly with African communities in France, with children and families in Romania, and in African countries including Burkina Faso, Swaziland, South Africa and Zimbabwe.
In 2011, South African Nicolaas Maritz won Designing Hope's poster competition. Maritz describes the need to speak to a broad spectrum of people: "With more than 11 languages spoken and as many tribes of different ethnic origins, the word 'diverse' doesn't even cover it." Hence, his simple and unintimidating message: "Love the One You're With, Positive or Negative."
In an effort to reach out to women, Maritz used colourful visuals inspired by the fabric prints worn by many South African women as well as some men. His vibrant style has been called "ethno-centric punk" for its mixture of traditional, tribal and modern design. Maritz was happy to have his work associated with Designing Hope's anti-stigma work: "It's wonderful when you create something that assists in making change." In addition to posters, his work was featured on condom packages, stickers and tote bags.
Throughout the epidemic and across cultures, posters have played an important role in promoting AIDS awareness and in combatting stigma against people with HIV. Highly politicized messages and graphic images characterized the early response to the AIDS crisis in North America. More than a decade of political activism produced great changes. AIDS generally became less of a guerrilla battleground and more of a scene of aftercare and reintegration. HIV campaigns reflected this new reality, promoting services and HIV awareness. The poster, cheap and locally reproducible, has proven to be highly adaptable and accessible in these changing contexts. In recent years, the poster has forged an important alliance with social media, assuring its continued relevance in years to come.
What is Stigma?
HIV stigma refers to negative attitudes toward people living with HIV. UN Secretary-General Ban Ki-Moon said: "Stigma is a chief reason why the AIDS epidemic continues to devastate societies around the world."
Just as stigma takes many forms, so do the strategies used to stop it. Here are just a few:
squashing stereotypes and challenging misinformation
talking about HIV rather than staying silent
putting a human face on HIV
showing that people with HIV are not defined by their serostatus or sexual orientation but are three-dimensional people
demanding that governments and institutions take action and protect the rights of people with HIV
Darien Taylor is CATIE's former Director of Program Delivery. She cofounded Voices of Positive Women and is a recipient of the Queen Elizabeth II Diamond Jubilee Medal, awarded to honour significant contributions and achievements by Canadians. Darien has been living with HIV for more than 20 years.