Summer 2015
Cheers!
Healthy summer drinks to quench your thirst.
By Doug Cook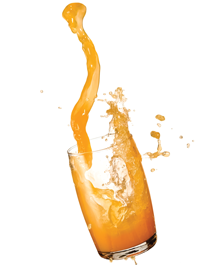 Summertime and the living is easy, with hot weather, sunshine, patios and outdoor activities. Depending on how high the temperature and your activity level, you may need to pay extra attention to how well you're hydrated.
Normally the body easily balances its fluid requirements. Contrary to popular belief, you do not need to drink eight to 10 glasses of water per day. Our body provides us with an amazingly sophisticated hydration system: Water in equals water out, and you can meet your fluid needs by simply responding to your thirst.
There are times, however, when you may lose water faster than you can replace it. This can happen when you are active and sweating a lot, whether at work or play. Or you may have a health condition or be dealing with a medication side effect that requires you to drink extra.
Don't lose your cool. Staying hydrated during the hot summer months can be easy, tasty and healthy.
Cocktails & mocktails
Alcohol increases the amount of water you excrete by interfering with the hormone that regulates urination. This effect isn't permanent but drinking alcohol can lead to dehydration, especially in warm weather. Consider limiting the amount of booze you drink and try to drink low-calorie fluids during and after happy hour.
Try a spritzer (wine with sparkling water), a shandy (beer mixed with lemonade or citrus-flavoured carbonated beverage) or a "mocktail" (a tall, frosty glass of juice and carbonated water, loaded with ice and slices of fruit).
Smoothies
Smoothies are a great way to make your drinks nutritious. Try adding your favourite fruits and veggies to any of the following: water, cooled tea, milk or milk alternatives (hemp, almond or rice milk). You can also add protein powder or yogurt.
Iced teas
Whether you make them from black or green tea or from herbal teas like peppermint or rooibos, iced teas make a great-tasting summer drink, with antioxidants to boot.
Kefir water & kombucha
Check your health food store for these refreshing drinks packed with pro-biotics—friendly bacteria with health-promoting properties. Like the bacteria naturally living in our gut, these microorganisms help us digest food, synthesize nutrients and keep bad gut bacteria in check. They also play a role in helping us to maintain a healthy immune system and a positive mood. Healthy gut=good mood! (Probiotics and probiotic-based foods have an extremely safe track record but because they are active bacteria cultures, check with your doctor before adding them to your diet.)
Staying hydrated during the summer is easy to do when you have delicious and nutritious bevvies on hand. So go for variety. Trying something new will make for an enjoyable, thirst-quenching summer.
Doug Cook is a registered dietitian and nutritionist. He is the coauthor of Nutrition for Canadians for Dummies and The Complete Leaky Gut Health & Diet Book.