Summer 2017
Profile: Your Nostalgia Is Killing Me
Activist Ian Bradley-Perrin on how romanticizing the past can obscure the present.
By Sarah Liss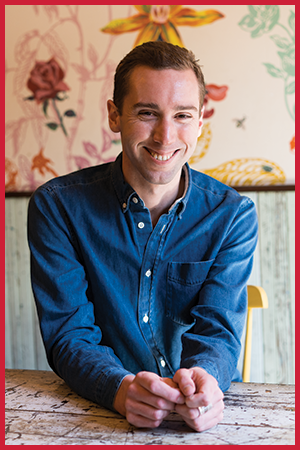 About five years ago, pop culture saw a flood of what can only be described as AIDS nostalgia. The catalyst wasn't immediately apparent. Was it generational curiosity? Retro fetishism? Had enough time passed to transform the real trauma of the deadly ignorance, stigma, inaction and grief of the 1980s and early '90s into, well, entertainment—or at least something more suited to mass consumption?
Regardless of the motivation, narratives rooted in the crisis years of the epidemic were ubiquitous: How to Survive a Plague, American journalist David France's documentary take on the origins of ACT UP, came out in 2012 and was nominated for a host of awards; theatrical remounts of The Normal Heart and Angels in America, plays that premiered in 1985 and 1993, respectively, sprung up in smallish and bigger theatres around North America; a high-profile HBO adaptation of The Normal Heart, starring Julia Roberts and Mark Ruffalo, premiered in 2014.
The recurring images from these works—pale figures wasting away, riddled with Kaposi's sarcoma lesions—resonated in ways both eerily familiar and curiously foreign. Here were sights and memories from the past, shown in a way that was disconnected from the current reality of living with HIV. Here was a spectacle to be witnessed from a distance and relegated to the annals of history. It was hard not to be left with the sense that you were watching a story that had ended years earlier, a battle that had been won, a fight that was no longer necessary.
For Ian Bradley-Perrin, now 27, that message didn't sit well. At the time, he was living and working in Montreal, where he was studying at Concordia University and working with AIDS Community Care Montreal. To him, the reverent fixation on the history of both the disease and its nascent community was directly undermining a wider discussion of the reality of what it means to live with a positive diagnosis today—and undercutting the vital work being done in the 21st century.
"All of those things were coming out at once and at the same time there was a younger generation that was being totally sucked in and taken in by this political moment in the gay community's history," he says. "It seemed like the aesthetic of AIDS activism was suddenly appearing everywhere. People were dressing like it was the '80s again and people were recreating New York during that era, but there was none of the political activism around HIV that there had been in the early days of the epidemic."
Ian's response, created in collaboration with artist Vincent Chevalier (and inspired, at least in part, by "bitchy conversations with friends," he says), was a clever, cheeky and striking contribution to the posterVIRUS campaign organized by Toronto's AIDS Action Now! in November 2013.
Their piece, titled "Your Nostalgia is Killing Me," features that wry line, emphatically rendered in bright-yellow, drop-shadowed letters, against the backdrop of a computer-illustrated bedroom. Keith Haring and General Idea graphics serve as wallpaper; visual ephemera from the '80s—ACT UP reproductions, Therese Frare's famous photo of mourners at a patient's bedside, promotional images for the films Philadelphia and Blue—are presented as teenybopper posters, plastered on the wall like pin-ups.
It was a bold comment on how romanticizing the past can obscure present priorities and impede real action. But not everyone read it that way. For many, especially those who had lived through those crisis years, the poster was a lightning rod. On social media, older activists attacked Ian and Vincent for what they perceived as undermining or dismissing the lived experience of survivors, calling them "stupid fucking brats" and accusing them, among other things, of committing "a little Oedipal murder."
"It became really clear to me that there was this generational divide among people living with HIV, where younger people and older people interpreted the poster differently," Ian says. He was struck, he notes, by how different generational experiences of HIV are from one another and he felt compelled to investigate that difference.
"It was personal, political, historical," he continues. "That combination of factors is what my work is now, and what it has always been."
The posterVIRUS clash was a particularly heated and visible example of Ian's activist work, but it was far from his first foray into challenging the dominant paradigm. A lifelong critical thinker, Ian can trace the origins of his militant consciousness back to his time as a high school student in Oakville, Ontario, a well-heeled suburb of Toronto.
It was in his teens that the seeds of his current interest in the intersections of public health and marginalized communities were planted. In 2007, during Ian's final year of high school, he began dating his first boyfriend, who was grappling with addiction and mental health issues and struggling to find ongoing care and treatment.
Through the lens of first love, Ian's eyes were opened to the shortcomings in the Canadian healthcare system—the dearth of detox, addictions and recovery services, and the challenges of finding a therapist for someone struggling with serious mental health needs. In a time of crisis, the only option seemed to be to go to the emergency room. "I was watching the outer limits of what was possible in Canada for healthcare," he says.
After a brief stint out west, he enrolled at Concordia University and moved to Montreal in 2008. Once there, he discovered a passion for excavating and interrogating the past. "Like many people from Oakville, I was initially planning to be a doctor or a lawyer. But I soon realized the way science programs are set up is dehumanizing and impersonal. I felt like there was an immense amount that I needed to learn before I could do what I wanted to do—and history is the way that you learn about the world. What has brought us to this point? What have people done in the past? It's everything."
Ian's true epiphany came during a first-year course in which he was reading a primary text about public health responses to the Black Plague pandemic in the 1300s. When learning about the ordinances instituted by the state to control communities, somehow, he says, the relationship between medicine, health and social control "just clicked," and he realized what he wanted to do with his future.
For Ian, the personal may always have been political, but in terms of his own health, the political became personal as well. Sometime during his first or second summer of university, he says, he was back home with his parents, and in a haze of smoking weed and watching movies, when he stumbled upon Mike Nichols' HBO adaptation of Angels in America. At the time, he says, he was yearning for a sense of connection and place. Through the miniseries, Ian began to grasp the history of protest and politics and tragedy he'd inherited as a member of the LGBTQ community.
"I was born in an age and a place that AIDS wasn't really part of," he explains. "It was something I learned about in sex-ed, but I was seven in 1996. I think I remember seeing a headline about HAART (highly active antiretroviral therapy) becoming available, but that would be my first memory. I don't really remember the early years of the epidemic. I had to rediscover that later on. For people who lived through that time, you can never forget it, but if you didn't live through it, I believe it's impossible to ever fully understand what it was like."
After watching Angels in America—a work, he notes, he's now more critical of—he began investigating HIV through an academic lens, embarking on a student project to conduct oral histories with people living with HIV and, eventually, forging ties with Montreal's queer activist scene through happenings like Radical Queer Semaine. Thanks to those relationships, he says, when he tested positive for HIV in 2010, the experience wasn't "earth-shattering."
"I had supportive people who were easy to talk to. They were able to make jokes about it and talk about it over tea, or go partying with me if I wanted to. Within a few months, it seemed, I found friends with whom I finally felt a sense of shared understanding, I found an activist community, and I found a personal connection to something I was already interested in. It was one of those magical moments where everything sort of came together and suddenly the course of my life was clear."
Even with some medical hiccups—bouts of PCP and tuberculosis, a staggeringly high viral load (3.5 million) and dwindling CD4 count (100) before he started Atripla in 2010—Ian embraced this clarity of purpose with gusto. He completed his undergrad work in 2012 and began volunteering with AIDS Community Care Montreal in 2013, doing fundraising and various other tasks. He'd become enamoured of the posterVIRUS campaign the previous year and drew inspiration from the unapologetic messages espoused by its participants. "I still have Mikiki Burino's 'I party. I bareback. I'm positive. I'm responsible' poster hanging outside my bedroom door," he says. "I thought it was brilliant, even if I didn't entirely understand it at first."
Ian channelled that fiery energy into further studies at Concordia, using the ACT UP Oral History Project (a collection of interviews with members of ACT UP New York) to examine the roles of class and gender in treatment activism. "I looked at that moment when AIDS activists took up the necessary but also limited medicalized approach to their own condition, when they were like, 'We need pills in bodies,'" he says. "Who were the people who got involved in that process? How was that defined by class and how did that shape policy?"
Those issues are also at the heart of the work he's been immersed in since he completed his master's degree in 2015. Ian is now a doctoral candidate at Columbia University, where his work focuses on the complicated role of the pharmaceutical industry in AIDS activism and treatment.
"Drugs got developed, which is great, but what does it mean for AIDS activists to have given community assent to these companies? Why is it now that there cannot be a single fucking Pride parade without Pfizer all over the place? Why do AIDS service organizations around the world rely on having to beg for money from pharmaceutical companies to survive?"
Beyond his dissertation, Ian has devoted time to grassroots organizing within Columbia itself. In the spring of 2016, realizing that he hadn't been paid for the past eight months of his work as a teaching assistant, he rallied his colleagues to push for a union. It was, he says, a brutal struggle, but "we won 1,600 to 600." And even though the U.S. National Labor Relations Board ruled last August that Ian and his fellow grad students at private universities are employees with the right to collective bargaining, the university is still challenging the outcome.
The fight, it seems, is never over. But even as Ian immerses himself in meaningful work—grappling with the insidious criminalization of HIV, contemplating the potentially coercive measures undertaken by the state to further decrease new infections, continuing to push for unionization—he remains focused on the future, while surveying the past.
"Disease is everywhere. Are we aiming to create the conditions in which people can live with HIV—or any other disability or illness that requires medical attention—with dignity? What should our goals be as a society? Are we aiming to get back to zero? Or are we aiming to ensure that people can live dignified lives with all of the messy realities that life entails?
"The future for me is humanizing healthcare and our collective approach to health," Ian says, his voice full of hope. "It's not about being perfect, it's about dealing with whatever happens."