Winter 2012
Profile: Inspiring, Devoted, Unstoppable
Despite the loss of her grand amour, Chantale Perron is as determined as ever to support and fight for the rights of drug users and people with HIV.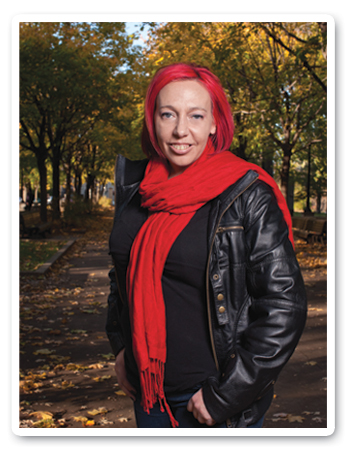 I started injecting heroin when I was 17 years old. When I was using, I went for HIV tests two to three times a year. Each time I visited the clinic, they would ask me: Had I been involved in high-risk activities, like sharing needles or having unprotected sex? Each time I answered the questions and each time I would find out later that I had tested negative. Then, one day in 1992, when I was 24 years old, they called to tell me that my test result had come back positive. I'd been sharing needles but the words floored me nonetheless.
I thought my life was over—that nobody would talk to me again, I would never have another boyfriend, I would never find a job or have a family. I was sure this was the end. I tried to stop using but I was in such a daze that I couldn't.
Somehow, life kept going. The first person I told about my HIV status was my mom. She had always worried about the needles and that I would get HIV. Then I told my friends. All of them were supportive; nobody rejected me as I had feared they would.
Strange as it may sound, the terrible news brought about some positive things: It strengthened my relationships with my friends and family. Two years after being diagnosed with HIV and subsequently hepatitis C (my doctor reassured me, as was common in those days, that hep C wasn't serious), I started taking methadone and stopped using drugs. And I started to work on myself and my life. I had always suffered from low self-esteem and had always done everything I could to please people—especially men. ­Following my diagnosis, I strove to become a proud, strong woman who spoke her mind.
A FEW YEARS after my diagnosis, I started getting involved in community work, first as a volunteer and later as an employee. When I started volunteering at GEIPSI (Groupe d'entraide à l'intention des personnes séropositives et itinérantes), a Montreal organization that helps substance users turn their lives around, I met a guy who was also HIV and hep C positive. I worked in the basement of the group home and Stéphane was one of the residents living upstairs. A coworker had given him two theatre tickets, and he asked if I wanted to see the play with him. Most people thought that two former drug users with HIV and hep C spelled bad news. (I had stopped using just one year earlier and Stéphane had been clean for only a couple of months.) But we went to the play and started dating. One thing led to another, and we ended up sharing our lives and love for 12 years.
FROM 1998 TO 2002, I worked for CPAVIH (Info-traitements du comité des personnes atteintes du VIH du Québec). While providing people with information on HIV, I discovered a talent for communicating and explaining complex issues to people in simple terms.
In 2001, I started publishing Pusher d'Infos, Quebec's first magazine by and for drug users. Though it is now defunct, to this day drug users tell me how much they liked it. I also wrote hundreds of articles for various publications to share what I had learned at national and international conferences. That job allowed me to realize my full potential while helping drug users and people living with HIV and hep C. In the process, I discovered the activist in me.
I had always had an activist spirit but when I started defending the rights of drug users and people with HIV, I found the channel I had been missing. I participated in demonstrations, signed petitions and lobbied funders and policymakers to make decisions needed to improve our lives.
Because I used heroin for more than a decade and I work with drug users every day, I am able to connect with them. I tell them: "You're still a human being and a citizen. You might be a user, but you can still have goals and you have the right to voice your opinions."
SINCE RECOVERING from the initial shock of my HIV diagnosis and up until this point, the fact that I was HIV positive had had little effect on my life. I started taking antiretrovirals in 1996 and took the same medications up until recently. Minor side effects, such as headaches and dry mouth, had been the only noticeable signs of HIV and antiretrovirals in my life.
The fact that I had worked hard on myself and changed over the course of many drug treatment programs, that I had a job where I felt useful and my potential was realized and, most of all, that I had found someone who was both a friend and lover made for a rich and fulfilling life. Of course, it wasn't perfect, but overall, even with its ups and downs, life rolled along pretty smoothly for 12 years.
Then Stéphane started to have problems because of his hepatitis C. His health deteriorated quickly over the next two years. I devoted myself completely to his well-being and tried to be there as much as I could for him. During that time, I paid little attention to my own health. I continued to work but spent the rest of my time taking care of Stéphane, accompanying him to countless medical appointments and doing whatever I could to lessen his suffering.
I acted strong and fearless in front of him, but deep inside I was terrified and heartbroken. Then, in 2008, Stéphane passed away. He had just turned 40.
That was three years ago. It took me three years to cry and mourn, to come out of my depression and regain my health (or most of it, anyway), which had deteriorated when my love passed away.
As if time had stood still while I took care of him, the weight of those years caught up with me when he passed. I fell into a state of extreme exhaustion. I had to stop working and, within a few weeks, I no longer had the energy to walk around the block or make my own meals. Suddenly, I gained weight, wrinkles lined my face and dark circles appeared under my eyes. I had aged 10 years. Since then, I've had to learn how to manage a chronic fatigue that limits everything I do.
IT WAS WITH GREAT EFFORT that I managed to carry on, thanks mainly to my family and close friends. I never could have made it without them. During some of the rough patches, the only thing that allowed me to put one foot in front of the other was knowing they were there for me.
My health has improved dramatically, though it's only around 75 percent of what it was. I have embarked on a new chapter, both in my personal life and my work life. For the last four years, I have been working at Méta d'Âme, an organization run by and for people addicted to opioids. Working at the drop-in centre and with the 22 ­residents, I feel that I am making a difference. I adore this work, where I am lucky to be surrounded by friends every day.
Today, I am 45 years old. Wow! Back in 1992, I thought I had barely two years left to live, and here I am about to reach a milestone: 20 years of living with HIV.
I am now starting to enjoy some of the pleasures of single life. I find myself doing things I've never done before—small stuff, like going on a whim to see a movie at night or trying a new restaurant. To me, this curiosity is a sign that I am still very much alive.
Photograph by Pierre Dalpé