Winter 2012
Self-Portrait 06.29.11
Joe Average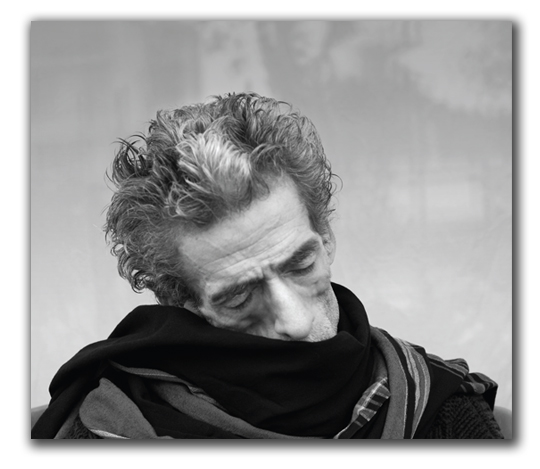 ONE OF THE REASONS I got myself a camera was to document the physical and emotional changes I have been going through with HIV and lipoatrophy. I found myself staring in the mirror and getting upset often. I was becoming increasingly depressed because of these irreversible changes. I decided to document the transformations, make art out of the experience and try to look at it from a different perspective.
I've done a few photo sessions with myself over the past few months. This photograph is from one of them. I am very happy with it because I think it portrays many different emotions.
I've been pretty shy about going out in public, which is something I'm trying to wade my way through and deal with. At one point I had the idea of wearing a burka-like scarf over my head. This particular photo session was to see how that would look. After taking several shots with my head almost completely covered and just my eyes showing, I found that the images looked scarier than what I looked like. I was glad that I had the camera to help me see that.
I shot this photo on the deck of my apartment. It was a cold day so the scarf worked well. The wind had picked up and I found that if I tilted my head to the side, the wind wasn't hitting me in the ear. I kept ducking the wind and tilting my head and I just kept shooting.
The photograph sums up a few things: my quiet low energy, the dramatic weight loss and the fact that I've kind of been ­hiding. It is the perfect self-portrait for that moment in time.
I've posted the self-portraits on my
Facebook gallery
, my outlet for showing my new photography. They're for everyone to see. I think there's an educational aspect to them. I'm also just trying to take really good photographs.