Winter 2014
From the Front Lines: A Snapshot of the Epidemic
"Know your epidemic, know your response." This UNAIDS rallying cry reflects the fact that there is not one single global HIV epidemic, but many, and that no one response will stop the spread of HIV. The same can be said for the epidemic in Canada: The number of people diagnosed each year and the communities most affected varies from region to region, as do frontline responses. So we've decided to take a snapshot of the HIV landscape across the country's provinces and territories.
Number of people diagnosed with HIV, 1985–2012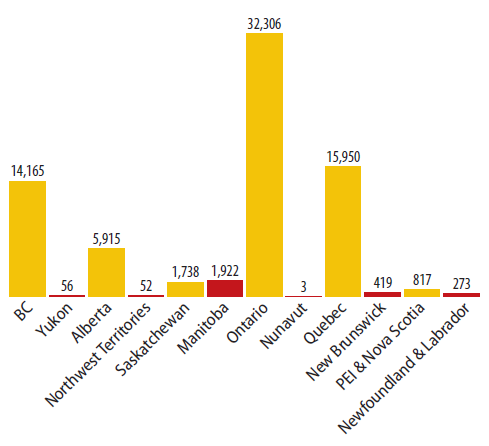 These bars represent the number of HIV diagnoses reported in each province and territory between 1985 and 2012. (This includes people living with HIV and people who have died since 1985.)
Rate of HIV diagnoses (per 100,000 people) in 2012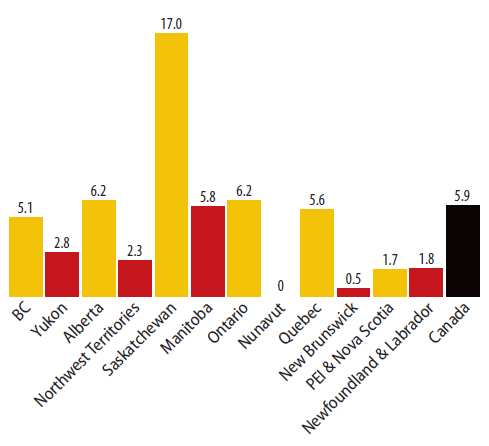 These bars represent the number of people per 100,000 who tested positive for HIV in 2012.
BC & the Yukon
BC's rate of new diagnoses has decreased in recent years and is now below the national average (5.1 per 100,000 people vs. 5.9). In Canada's westernmost province, gay, bisexual and other men who have sex with men (MSM) comprise the greatest number of new HIV diagnoses followed by people who acquire HIV through heterosexual contact.
BC is the only province in Canada to adopt a comprehensive "treatment as prevention" strategy, aimed at detecting HIV infections early, improving the lives of people living with HIV and preventing HIV transmission. Similar strategies have since been adopted in other jurisdictions around the world.
In the Yukon, only one case was reported in 2012 (56 cases have been reported since the start of the epidemic). However, like others who live in the North, many people travel outside the territory for health services and may have been tested and diagnosed elsewhere.
The Prairies (Manitoba, Saskatchewan, Alberta) & Northwest Territories
Due to the dramatic rise in the rate of HIV infections diagnosed since 2003, Saskatchewan now has the highest rate of new HIV infections in the country. Its rate (17 per 100,000 people) is almost triple the national average (5.9). The epidemic affects Saskatchewan's Aboriginal people in disproportionate numbers: 81% of all newly diagnosed individuals are Aboriginal. And the vast majority of new infections are associated with injection drug use. A quick glance at the numbers can give us some sense of what's happening but it's the dedicated community of people working in the field who really help to shine a light on the challenges and successes in this province. Saskatchewan's comprehensive HIV strategy, released in 2010, has made great strides in promoting awareness, increasing the availability of testing and improving the quality of life for people living with HIV.
Neighbouring Manitoba has seen a steady increase in new HIV diagnoses with a decrease since 2010. Most services for people living with HIV have traditionally been situated in Winnipeg. To address this gap, the Manitoba HIV Program aims to ensure that everyone in the province is connected to the care they need, regardless of where they live.
In both Manitoba and Alberta, the main mode of transmission is heterosexual contact, followed by men having sex with men. Recent years have seen an expansion of Alberta's HIV services into rural and remote areas like Grand Prairie and Fort McMurray, to address the sharp population increases there driven by people from elsewhere in the country travelling to the Tar Sands for work.
In the Northwest Territories, the rate of new infections is relatively low (2.3 per 100,000 people).
Ontario & Nunavut
In 2012, as in previous years, Ontario was home to the largest number of people diagnosed with HIV in Canada. Most of these infections were acquired through men having sex with men. The provincial rate of new diagnoses (6.2 per 100,000 people) was slightly higher than the national rate (5.9). Ontario is also one of the best serviced provinces in the country for HIV. This does not mean, however, that everyone has easy access to the services they need. More remote communities, particularly in northern Ontario, remain underserved. (In fly-in communities, HIV care is often provided by a single nurse.) In various parts of the province, AIDS service organizations (ASOs) geared to specific ethno­racial populations have emerged to offer culturally sensitive services and improve access to services.
In Nunavut, only three cases of HIV have ever been reported, and none have been reported since 2006.
Quebec
The rate of new HIV diagnoses in Quebec (5.6 per 100,000 people) is slightly below the national rate (of 5.9). MSM account for a large majority of diagnoses, followed by people from regions where HIV is endemic, such as countries in sub-Saharan Africa and the Caribbean.
Recent years have been marked by the launch of innovative HIV testing programs in the province's urban centres. For example, in Montreal's gay village, ASOs now offer MSM the chance to get free HIV tests in a relaxed environment tailored to their needs. By reaching out to communities "where they are," such initiatives allow people to get tested in a comfortable and familiar environment, hence reducing their worries and the fear of judgment that can prevent people from connecting with services in the first place.
The Atlantic Provinces (New Brunswick, Nova Scotia, PEI, Newfoundland & Labrador)
In Atlantic Canada, the main mode of HIV transmission is men having sex with men, followed by heterosexual contact. While the rate of new HIV diagnoses is low in these provinces compared to other parts of the country (0.5 in New Brunswick, 1.7 in PEI and Nova Scotia, and 1.8 in Newfoundland & Labrador), Atlantic Canada continues to face unique challenges. Many ASOs in the Atlantic provinces are so strapped for resources that they are run by only a few part-time staff and volunteers, and services are, for many living with HIV (and people looking to get tested) hard to come by. Because a sizeable portion of people in these provinces lives in rural areas, accessing what resources do exist can be that much more difficult. For example, for people in PEI, the nearest HIV clinic is in Moncton, New Brunswick!