Winter 2014
Healing Touch
Gordon Waselnuk gets a feel for how nurturing touch can melt stress, take the edge off pain and work wonders for the mind and body.
From the hug that comforts a crying child to the hand that steadies the shoulder of an anxious friend, touch can be a powerful tonic. As a long-term survivor of 24 years and counting, I am constantly exploring ways to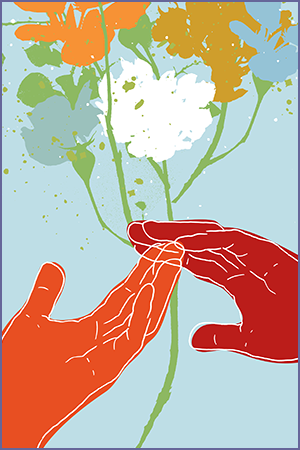 enhance my physical, emotional and spiritual well-being. And what I've found is that touch and physical intimacy can be powerful remedies.
What many of us feel, or know, intuitively about the benefits of touch is also backed up by science. Research shows us that these benefits begin as soon as we leave the delivery room. One of the most remarkable studies looked at the effects of physical touch on premature infants. A group of premature babies who were gently touched and massaged three times a day were compared to a group of preemies of similar size who shared similar life conditions but were not touched and massaged every day. The researchers found that the infants from the first group were more alert, more active and more responsive. They slept more deeply. And they gained weight up to 47 percent more rapidly. The babies who were touched regularly also left the hospital six days sooner. These findings were nothing short of astonishing.
We know that physical touch is more than skin deep. As many as 5 million touch receptors in our skin (more than 3,000 in a single fingertip) send messages along our spinal cord to the brain. A simple touch can reduce our heart rate and lower our blood pressure. Caring, nurturing touch can lower levels of the stress hormone cortisol and some studies suggest it may enhance a person's immune function. It can also stimulate the brain to produce endorphins, our body's natural pain and stress suppressor—which is why a mother's hug of a child who has skinned her knee can literally "make it all better."
But we in North America are a relatively non-tactile society. Compared to people in many parts of the world, we tend to be a little touchy, so to speak, about being touched. One need only walk down the streets of Cairo, Buenos Aires, Bangkok or Rome to witness more open displays of affection and realize that this is the case.
Of course, physical intimacy comes in different shapes and sizes: There's the kind you build with loved ones—romantic and platonic, the kind you find in various therapeutic-style settings and the more casual sexual kind. While the nature of each of these differs dramatically, all can offer varying degrees of pleasure and balm. Of course, touch can also be unwelcome and far from comforting; it can take the ugly shape of all-too-common physical or sexual violence, too. For many of us, the ideal may be the kind of physical intimacy—sexual and otherwise—found in a loving long-term relationship. But in the absence of that—or to complement it—there are many possibilities, some of which are surprisingly creative.
In the late '80s and early '90s my friends and lovers were sick and wasting, eventually dying in hospital beds and at home. I call this period the Dark Ages. I lost my lover of 12 years and then, over three years, four close friends. This was fairly common, especially in the gay community. The irony is that when my lover and my friends died was precisely when I needed them the most for support—someone to hold me in their arms, where I could let go and grieve.
One thing I've noticed since being single is that anonymous sex is easy to find, at least in a big city, but safe, nurturing touch is much more elusive. It can be hard to meet people, let alone hit it off with them. Then there's the fact that many people shy away from intimacy, as it can bring up repressed memories, emotions and trust issues, especially if they have experienced sexual abuse or been in violent relationships. But no matter our personal experiences, touch is something most of us crave, especially when we're deprived of it.
We may know subconsciously that touch can enhance our well-being and quality of life, but how do we show affection and physical intimacy in a society in which individuals seem to be more and more socially isolated? I'm hardly the first to notice that people seem to stare at their phones and computers more often than at each other. Our affluence and technological advances seem to have led to more social isolation. Many of us sit in our homes watching our flat-screen TVs or spend hours surfing the Net. This isolation can lead to sadness, and, unfortunately, that sadness can become pathologized—often seen as depression that needs to be medicated. What is really needed is more intimacy with others.
For those of us with HIV, the challenge of getting close to others may be further complicated. Sexologist and psychotherapist Chantal Turcotte sees diverse clients in her Montreal-based private practice and at Clinique Opus, an infectious disease, addictions and mental health clinic. She notes that each person is unique and their challenges depend on where they are in their journey with HIV, but people living with HIV often struggle with navigating disclosure (when and how should I tell the other person that I'm HIV positive, and how will they react?), practicing safer sex and, for some of us, dealing with health conditions. She notes that feelings of shame are also common, particularly among heterosexual women and men.
Our own concerns aside, we also sometimes need to contend with the fears of others. For gay men looking to meet people online, be it on Manhunt, Grindr or even Craigslist, it seems like every second personal ad wants someone who is "DDF" (drug- and disease-free) or "clean." Many say "HIV negative and wanting same." The not-so-subtle message is: If you have HIV, don't contact me. And, of course, this dynamic plays out in the thousand and one other places where people (gay, straight and everything in between) meet each other, too. No wonder people living with HIV have a higher incidence of depression and isolation.
Friend and fellow long-term survivor Rebekka Valian, who volunteered teaching yoga for years, primarily in the HIV community, offers massage at places like Vancouver Friends for Life, a non-profit that provides complementary and alternative health and support services to people living with serious illnesses. "The need can be so overwhelming," she confides, "that at times I need to retreat and nurture myself."
AIDS service organizations (ASOs) in various parts of the country have stepped up to try to meet this need. Montreal's Maison Plein Coeur, for instance, offers women and men living with HIV free massages, provided by volunteer masseurs who have been trained to work specifically with people living with HIV. And the Toronto People with AIDS Foundation (PWA) offers a wide array of touch therapies—including Reiki, acupuncture, massage and therapeutic touch treatments. People receiving these therapies report numerous physical and psychological benefits. These treatments can reduce stress, anxiety, depression and stress-related conditions, stimulate circulation and possibly boost the immune system.
Another friend, Joel Nim Cho Leung, who lives on a small budget, goes for massages regularly as a preventive measure. "I feel less depressed and more relaxed and nurtured," he says. "The only problem is that there are often waiting lists at my local ASO. This shows that there is a real need among people living with HIV."
There are also people who have seen a need and formed groups that offer creative solutions in the form of workshops.
After my partner died, I was fortunate to find one such group in Vancouver, called Men in Touch. A friend had recommended the retreat—a safe, nurturing environment where I did not have to be sexual or look my best. A man named Sequoia started the group in the late '80s, bringing men together at retreats in the city to nurture each other through dialogue, movement, breath and sensual but not sexual massage. In the '80s and early '90s, many of the participants were living with HIV, in various stages of disease. There was a lot of laughter and tears at those memorable retreats. Today Sequoia has opened his practice to women and also works one on one with people who are dealing with sexuality and intimacy challenges.
Similar groups and workshops are available to women and men in various cities. One of the first was The Body Electric, created in the early '80s by Joseph Kramer, a teacher in the San Francisco Bay area. He developed it after noticing that people were shutting down emotionally and sexually, especially during the height of the AIDS epidemic. People were overwhelmed and frightened about losing friends and becoming infected and dying. The workshop, now delivered in the United States, Canada and Australia, brings people together to honour each other (there are groups for people of all gender identities and sexual orientations). Over the course of a weekend, participants gradually work toward experiencing intimacy and sensual erotic tantric massage in a safe, caring environment. I have participated in two workshops and used to co-host a monthly group in my studio. Many participants are HIV-positive guys, some with obvious symptoms of AIDS. It is a powerful experience to nurture and care for people regardless of their health status or sex appeal.
My contact with these groups has encouraged me to continue down this path in search of touch and intimacy. Thanks to Joseph Kramer and Sequoia, who both became mentors to me, I have embarked on a second career as a massage practitioner and for more than 10 years have taught and practiced Thai yoga massage (a therapeutic technique that combines assisted moving, stretching and relaxation) in my studio and in schools. I also offer free massages at a few ASOs in Vancouver. This has allowed me to provide touch and intimacy to clients in a quiet, nurturing environment. New clients may be reluctant or nervous about touch. I emphasize that everyone involved needs to proceed with mindfulness and caring, slowly getting to know each other and building trust. To make services available to people on low incomes, many practitioners, including myself, offer a sliding scale. And some massage therapists who provide services to people living with HIV charge no fee at all.
If you feel touch deprived, I'd encourage you to seek out opportunities for closeness. Something as simple as making eye contact or sharing a smile, even with strangers, can make a difference. Or try hugging friends more often, even if it feels awkward at first. Another idea to consider is asking someone to come over and cuddle while watching a movie—with no expectation of sex. That sounds like a great evening in my books. Pleasant and non-threatening. Intimate contact, after all, eases life's blows and helps us feel better physically, emotionally and spiritually.
Turcotte tells her clients that it can take time to get over the shock of an HIV diagnosis and to build up their self-confidence, but no matter where a person is in their journey, "every person has the right to be accepted for who they are. Every person has a right to physical intimacy, as well as a healthy and enjoyable sex life."
Gordon Waselnuk is a long-term survivor who lives in Vancouver. He has been involved with the HIV community in various capacities for over 20 years, focusing mainly on treatment information and health promotion. Gordon also works as a massage practitioner. Visit www.thai-yoga-massage.ca.
Illustration by Carol-Anne Pedneault