Winter 2014
Visual AIDS: Birds of a Feather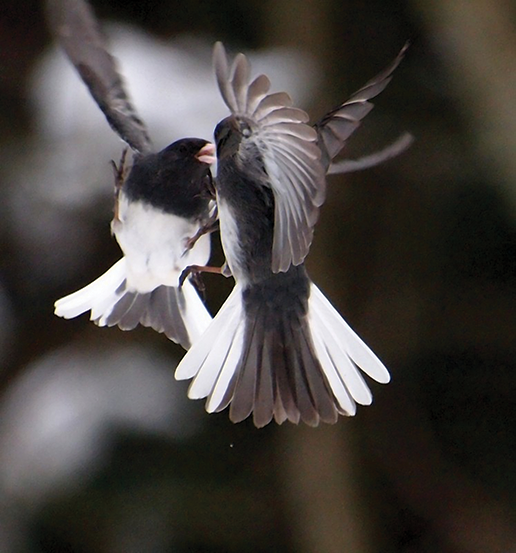 When I take pictures of birds, I try to capture something a little different—not just a bird sitting on a branch, but their movement and personality. I took this shot while walking through the Arboretum in Guelph, Ontario. I caught these two dark-eyed Juncos in the split second that they were fighting for a position on the bird house.
When taking pictures, I'm not thinking of HIV. For me, photography is an escape from thinking about HIV. I am online most of my day, writing about it and sharing information as a social media coordinator for PositiveLite.com. Taking pictures is my "me" time—my time for self-care, exercise and sometimes socializing.
After an episode of stress several years ago that caused my CD4 count to drop, I had to leave my job and start treatment. I needed something to do, a hobby. I hadn't picked up a camera for many years but had always liked photo­graphy. So I bought myself a good camera and started hiking the trails around Guelph, snapping everything that caught my eye.
Photography gets me out of the house and keeps me grounded, giving me a place in this world. HIV could have made me live in isolation, but taking pictures has become a social activity. I meet other photographers, as well as people who are just curious about what I'm photographing. Most days I head out for one of my hikes, it's five to seven hours before I return, with more than 200 photos on the camera to keep me busy sifting through them and editing them the rest of the night.
This photo was the first of many rewards for me exercising my "me" time.
—Wayne Bristow
To see more of Wayne Bristow's photos, visit www.flickr.com/photos/55679020@N04/
If you have a photo that you think could be the next Visual AIDS, send it to us along with a brief description of the story behind the image: contribute@positiveside.ca