Winter 2015
Profile: Crossing the Threshold
Murray Jose-Boerbridge tells the story of his journey with HIV.
When members of what would become The Fellowship of the Ring crossed the threshold into Bilbo Baggins' home, they knew that their lives were about to change forever. They would not be able to walk back across that threshold the same person. Thus it is with thresholds, whether physical or psychological. Once you cross them, everything changes and there is no turning back.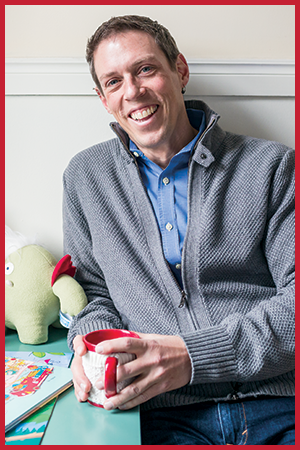 Those words are from an article I first wrote for GayGuideToronto.com (now TheGayGuideNetwork.com) in September 2003. The idea of momentous thresholds may be all I have in common with The Fellowship of the Ring but it resonates powerfully. My HIV diagnosis in 1991 was one such moment, as was starting HIV treatment. Becoming a father was another. All have profoundly changed me and shaped the person I am today.
I have always enjoyed writing and found it therapeutic. Through it, I can challenge people's assumptions, honour history and offer my perspective on poignant moments. When preparing to write this piece for The Positive Side, I read over articles and speeches I've penned over the years, reflecting on my experiences, opinions and relationships. Here I've included some excerpts I wrote primarily for TheGayGuideNetwork.com's monthly column Poz POV, about my own pivotal moments.
Living with HIV and working in AIDS service organizations (ASOs) since 1994 opened my eyes to social justice issues, discrimination and homophobia. This took me a long way from my sheltered childhood on a dairy and orchard farm east of Toronto.
I left home at 17 for Wilfred Laurier University in Waterloo, Ontario. My coming-out experience was like getting a bucket of water in my face—oh my god, I'm gay. A tattoo and ear piercings soon followed. After graduating from university—with a BA in psychology and later a diploma in human resources management—I was managing a restaurant in Kitchener, Ontario, and realizing that hospitality was not going to be the career I had hoped for. That's where I was in 1991 when I got my diagnosis. I was HIV positive. I was 23.
I gravitated to working for ASOs. It dawned on me then that my race, gender, socio-economic status and education have afforded me certain privileges. And so I've chosen to work in a very public way, because for me there are fewer repercussions than for many others—I didn't have to worry in the same way about disclosing my status to family, coworkers or friends, or about losing housing.
It has helped, too, that I've always liked being different—for instance, I deliberately didn't drink until I was about 35, partly because at school drinking was expected. It also helps that I enjoy challenging people's perspectives. When I began to speak publically in the '90s about being positive, for instance, students thought they would be able to "tell" if someone was HIV positive but I looked very much like them—young and healthy.
At that time there was a lot of pressure to go on HIV drugs, but I pushed back because my immune system was strong. For 12 years that decision continued to make sense—until starting a cocktail became the wise course. That change loomed as another enormous threshold, and I wrote about the prospect, with some anxiety, in 2003.
I expect that I will soon cross a psychological threshold that will change me forever. I will start the cocktail for the first time. This is not just about starting new drugs. This is changing a part of my identity…. There are lots of emotional elements to that identity. For the last few years, I have considered myself a long-term non-progressor. Significant parts of my identity will now have to change.
A few months passed before I start­ed treatment. In June 2004 I wrote about new worries.
This spring marked the beginning of taking HIV drugs for me. You'd think that my knowledge would help me to be more intellectual than most and dismiss unrealistic fears around health and side effects. Somehow, intellect doesn't seem to have much impact on fear, realistic or not.
Is that a rash or a sunburn? Am I looking a little jaundiced or is that the fluorescent lighting? What is the difference between being tired and being fatigued? Is that belly the beginnings of lipodystrophy or last night's pizza? What is the threshold between feeling a little blue and being depressed?
Looking back, I see how fortunate I was. I began treatment at a time when researchers already knew so much about medications and best dosages. I'm still on my second cocktail and other than a kickass bout of depression from efavirenz, which resulted in me switching regimens, I've had no side effects. My viral load has been undetectable since a few months after starting treatment.
My good health and a new job with the Toronto People With AIDS Foundation (PWA) allowed me to push myself in an entirely different way—for a total of six years: In spring 2005, I signed up for PWA's annual Friends for Life Bike Rally, which sends cyclists and crew on a six-day, 600-km journey from Toronto to Montreal.
Although growing up I had liked to swim and run, and I was in reasonably good shape, the rally was still challenging. I solicited donations and took advantage of available training most weekends for four months leading up to the event my first year. That first ride, in July 2005, was intense physically and emotionally—and incredibly exhilarating. Upon arriving in Montreal, I reflected on the experience.
It can be overwhelming for me to think of the many motivations that have played a part in bringing me here to this point of having cycled from Toronto to Montreal over six days. Among them:
I can do anything I set my mind to.
HIV will not limit me.
You cannot make assumptions and label me.
I will shatter my own perceptions of what I am capable of.
For me, storytelling is a way of preserving history in a personal, meaningful way. I think of how I may be the only one who remembers certain individuals who have died. I think about the experiences that so often isolate us from family and community. Remembering helps to motivate me. I wrote about this in February 2007.
Will we be remembered? Not just as individuals but as a community that responded to a devastating disease with creativity, love, anger and a resolution that we would not let this disease destroy us.
We forced the medical community to see us as partners in our health care, not just patients blindly doing as we were told. We forced government to change policy and access to medications. We created a new way of celebrating someone's life that is so much more unique and creative than the traditional funeral. At the same time, we were struggling with loss on a massive scale.
As a person diagnosed HIV positive in 1991 and living with a partner nine years my senior, I watched as my partner's group of friends was decimated.... When funerals were planned, families excluded friends and volunteers who had helped the person die with dignity. Boxes of unclaimed ashes lined the shelves.…
I understand that our communities are tired, that many long-term survivors have become isolated and exhausted. People have chosen to move ahead with their lives and perhaps feel that the history is not important in shaping the present. How incredibly sad that makes me.
Thankfully, my life has been filled not just with grief and sadness but with great joy. There were very few dreams that I had allowed HIV to impact, but raising children was one of them. For a long time, I just didn't think it was going to be possible.
In August 2005, I wrote about spending time with my nieces and some friends' daughters.
There is something inherently beautiful about holding a child in my arms.
There is a responsibility to myself and to the child to be the best person I can be.
When I'm with a child, I see the wonder in everything. A simple flower can be the most incredibly beautiful and complex thing in the world.
Being with a child keeps me grounded and focused on what is important.
Eight years later, my partner and I adopted our 18-month-old son. I was 45. To my surprise, the fact that I'd been HIV positive for nearly 20 years ultimately hadn't been a barrier.
I had let go of parenting not just once, when I understood myself as a gay man, but several times—also after my HIV diagnosis and again when exploring sperm-washing options with friends. Even when my partner and I decided to explore adoption, I assumed there was no way children's services would consider someone with my health concerns.
As a person living with HIV, it was one thing to make long-term plans and dream on my own or with my partner. It was another thing entirely to make the commitment to raise a child. I have strong memories of getting to know my father when I was grown up, as two adults, and I wanted that opportunity with my son. While still very much scared and uncertain, I took the plunge.
Fast-forward to the moment I saw our future son looking out the window of his foster mother's home as she pointed us out pulling into the driveway the first time. I can't even write that sentence without tearing up at the memory. A threshold indeed.
I had a sense of the wonder with which I would see the world, as through a child's eyes, but of course the reality is so much more intense. Everything is new and fascinating. He has opened new doors to the person I am, the assumptions I hold of myself and the perspectives with which I see the world.
For two gay men parenting a child, there is occasional discrimination or even risk, particularly when travelling. But I have been surprised by the unexpected smiles, comments and connections that are elicited simply by walking down the street with our son.
My son's world will be different from the one I've inhabited. One day I will talk to him about HIV, normalizing it as much as possible. He will connect to it and to gay identity (regardless of his own sexual orientation) in ways I can't imagine. He will be part of a world that may be distanced from the loss and impact of HIV that I experienced. But I hope it will be a world connected to the passion, community and strength that resulted.