Winter 2015
Smoke Signals
With medicinal marijuana laws in a state of limbo, where do things stand for people who count on it? Peter Carlyle-Gordge gives us the straight dope.
Thousands of people living with HIV in Canada find cannabis critical for managing their illness—for appetite stimulation, weight gain and relief from nausea, pain, anxiety and depression. Rosa Colavito-Palao, a therapist at Nine Circles Community Health Centre in downtown Winnipeg, sees many clients with HIV and other health conditions for whom pot has proven to be a godsend. "People have experienced great medicinal benefit and great physical relief from their pot use," she says.

One such client, Chris, a 49-year-old man, has been smoking pot for medicinal purposes for decades. He used to work as a cook in Northern Manitoba's mineral-drilling work camps but had to leave his job and go on employment insurance due to debilitating illness and fatigue. Diagnosed with HIV in 1986, when he was just 21, Chris uses pot to relieve the nausea, gut troubles and other side effects of his HIV treatment. "Without it, I don't think I'd be able to eat," he says. More recently, the herb has helped him with other health problems. Due to Chris' immune system being "totally shot," a severe brain injury seven years ago produced neurological pain, balance and mobility problems. Smoking marijuana has helped with all of these symptoms. "I need my pot for chronic pain," he says. "It gives me appetite and energy—without it, I'm totally lethargic and it takes me an hour or more to walk to the clinic." Chris pays around $10 a gram and, because of his low income, rations it carefully.
For people like Chris who use marijuana for therapeutic purposes, the changing headlines and news stories have made it hard to get a picture of where things stand when it comes to medicinal marijuana in this country. So what do we know about how the laws have changed and what lies ahead?
Marijuana as medicine
Cannabis—aka weed, herb, dope, pot—is technically illegal to buy, use or possess in Canada. But back in 2000 the Supreme Court ordered the federal government to come up with a scheme that would allow some people to use the drug for medicinal purposes. In response, Ottawa set up a system whereby people had to apply to Health Canada for an authorization that would allow them to possess limited amounts of medicinal marijuana bought from a government-approved supplier or get a license to grow their own pot for personal use or designate someone to grow it for them.
When Canadians were first authorized to possess marijuana for medicinal purposes, there were fewer than 500 legal users; Health Canada estimates that there are now approximately 40,000. Scores of compassion clubs mushroomed across Canada to meet the need and provide a safe supply of the product. They argued that the government-approved pot was costly, the quality was unreliable, and doing all the paperwork needed to get the required approvals was daunting.
So dozens of compassion clubs have been acting as dispensaries of medicinal marijuana to people with a wide range of health issues, including HIV, peripheral neuropathy, cancer, multiple sclerosis, epilepsy and other conditions. They have operated in a grey legal area and, more often than not, the police has turned a blind eye to them (though compassion clubs have certainly been busted—check out "Cultivating Compassion" in the Summer 2007 issue of The Positive Side).
Health Canada does not license or support compassion clubs and still regards pot as a dangerous, unproven medicine. Yet a decade ago, the Senate blasted the Canadian government for ignoring the considerable experience and expertise of compassion clubs. A Senate report stated that government regulations failed to facilitate access to therapeutic cannabis and that "the continued prohibition of cannabis jeopardizes the health and well-being of Canadians much more than does the substance itself." It recommended that Health Canada take measures to encourage the development of compassion clubs.
New rules
Fast-forward to 2014: Last April, Ottawa brought in new regulations. It abolished the right of individuals to grow their own pot and invited for-profit companies to start supplying it. Several companies are anxious to jump in so they can get a piece of the legal pot pie. It is estimated that by 2024 the industry will accrue $1.3 billion in revenues.
Under the new rules, growers have to meet strict security and quality standards and they have to notify local police as part of their application to become a licensed producer.
By Health Canada's own estimate, the number of licensed consumers of medicinal marijuana will increase almost tenfold in the next decade, to approximately 309,000, as more evidence of the drug's efficacy emerges and as more doctors become willing to prescribe it to their patients.
Under the new Marihuana for Medical Purposes Regulations (MMPR), doctors in effect become the gatekeepers, determining who can legally gain access to pot. It's a role many physicians are reluctant to take on.
Previously, people who applied to the medical marijuana program had to have their application form signed by their doctor, which indicated that the physician was aware that their patient was using pot for medical purposes, but Health Canada had the ultimate say. Under the new rules, users simply seek a document from their doctor, similar to the way one would get a prescription.
Burning questions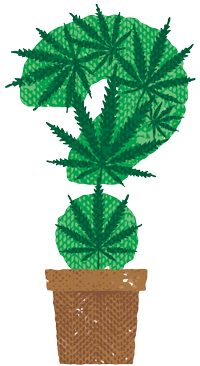 These changes have raised some burning questions: Do the new laws mean that private growers who are currently licensed will have to destroy their crops and get rid of expensive equipment they bought to grow it? Will commercial companies be able to jump right in to provide adequate supply to the people who need it or do people who depend on medicinal marijuana need to worry about a dry spell?
Unlike compassion clubs—which have dispensed marijuana in the form of capsules, creams, tinctures, food products, extracts and concentrates—licensed companies can only sell dried marijuana buds. So another concern is, if pot will only be sold as dried leaves for smoking under the new regime, what does this mean for the users who are not able to smoke it for health reasons—such as people with lung cancer or chronic obstructive pulmonary diease—and can only ingest it in other ways?
Compassion clubs have been able to make these various products available along with counselling on marijuana and health issues. Most doctors lack such expertise yet they are to be the sole gatekeepers of who gets to use medicinal marijuana.
Last but not least, there are concerns about price. Dried marijuana from licensed companies ranges in price but is generally far more expensive than dried marijuana purchased from Health Canada or grown at home. Like Chris, many users of medicinal marijuana have limited incomes and cannot afford higher prices.
Legal challenges
The new regulations, which ban individual growing, were due to kick in April 2014, but thanks to court challenges, those authorized to grow, buy and use pot under the old rules can continue to do so for now. The old system remains legal until a lawsuit is settled in a Vancouver court.
A B.C. judge sided with a patient coalition, arguing that the new regulations violate the patients' Charter rights to health and liberty. He granted an injunction allowing current patients to keep growing until a final ruling is passed down. The judge agreed that the new program does not provide adequate access and that some patients will be unable to afford marijuana at the licensed producers' prices.
In another case, four plaintiffs are challenging the arbitrary and restrictive nature of the new regulations; this federal court case, expected to last three weeks, will begin in a Vancouver courtroom in late February. Some of the plaintiffs have grown their own pot to ensure quality, safety and efficacy and have invested substantially to do so. They say that they found the black market as well as the single government-approved provider, Prairie Plant Systems, unreliable sources for consistent quality. Moreover, they claim that the new regulations are arbitrary and unreliable.
The Harper government plans to fight this Charter challenge.
Whatever the courts decide, it's a pretty safe bet that many people will continue to buy their pot on the black market, because they're either unable to afford the prices of the new legal suppliers or unable to find a doctor who will prescribe it. It's doubtful that those people who are now buying pot illegally will rush into the new system.
The ultimate resolution may well be political. Liberal Leader Justin Trudeau favours legalizing pot, which will undoubtedly attract some electoral support from users. "I did a lot of listening, a lot of reading and a lot of paying attention to the very serious studies that have come out," Trudeau said, "and I realized that going the road of legalization is actually a responsible thing to look at and to do." With a federal election due in 2015, party leaders will likely be on the hot seat to explain precisely what they plan to do about medicinal marijuana.
The Cannabis Controversy
"I think it should be decriminalized, since medicinal users have plenty to worry about without fearing police knocking on their door…. You can legally buy and use marijuana in Washington and Colorado now, but in Canada we seem to be going backwards. The government is making it harder for sick people who need this medicine to get hold of it.
Pot has helped me enormously to keep going. I don't think the government has any business interfering with how I get a proven medicine that has helped many of us cope."
—Chris, living with HIV for 28 years
"We want to remind Canadians that marijuana is not an approved drug or medicine in Canada. Health Canada does not endorse its use."
—Health Canada press release, March 31, 2014
"The simple solution is to decriminalize the drug. This would remove barriers to obtaining it and eliminate fear of arrest by people who are already coping with major life challenges. There are people who grow their own pot and feel very comfortable ingesting or smoking it because they know exactly what it is and where it came from. Perhaps there could be room for people who wish to buy regulated pot as well as those who wish to grow their own."
—Rosa Colavito-Palao, therapist, Nine Circles Community Health Centre
"The Canadian Medical Association remains adamant that it will not throw its support behind medical use of the drug until numerous questions about safety, efficacy, dosage and delivery have been answered."
—Canadian Medical Association
To find out how you can apply for medicinal marijuana under the new MMPR, visit www.hc-sc.gc.ca/dhp-mps/marihuana/access-acceder-eng.php
Winnipegger Peter Carlyle-Gordge is a former writer for Macleans, Time Canada and The Financial Post. He has also worked as a CBC Radio broadcaster and producer and is a former UK correspondent for the Toronto Star. In the 1980s he was president of the Village Clinic (now Nine Circles Community Health Centre).